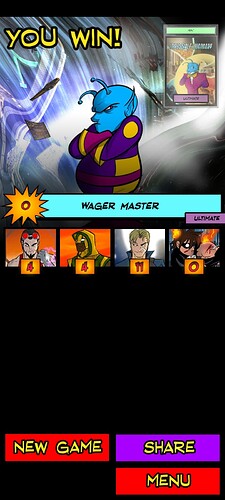 A typically topsy-turvy experience, but one featuring my single favorite hero card, so I ain't complaining.
I can't believe I didn't think to get into all three of my actual forms during the Fixed Point (one during play phase and one with his power to play a card, while the third was in play from round 1). If I ever play this again, that will definitely be my priority.
This game has really cemented how much I dislike playing Setback, as he has so many optional triggers that you'll usually want to say no to, but they happen constantly, and you can't just say "always no" to them, since on rare occasions they're crucial. Friendly Fire is the bane of my existence, and Uncharmed Life is usually also an irritant. In this case, it was a self-solving problem, as it let Setback get himself killed in a futile effort to save Luminary's Devices (the scene writes itself).
Setback was more useful dead than alive, but there was a big problem: Playing Dice With The Cosmos was a face-down card, and the moment it came face up, Setback would lose us the game. Fortunately, the "good" Baron had a pretty full graveyard; he was one card short of firing his Terralunar Translocator, and in the subsequent round it was destroyed, but Technologically Stable got it back into play, and though he didn't get to dispose of as many Conditions as I hoped, he was able to prevent the instant loss which was fast becoming inevitable. As a bonus he got to double up on his power and draw phases by doing a very Timely Disruption of Breaking the Rules. Thanks to playing this card twice, Luminary had so many cards in hand, along with a few in Wags's deck, that getting another Doomsday off would have been impossible without some discarding or the like.
Super early What Do You Really Know made this a very unpredictable game, and of course with Who Are You Fighting, we couldn't win without a trick of some sort. Fortunately, we had two such options. Natch and Stuntman beat Wags down into the single digits, and while the Lance-Flammes was on standby, the preferable cheat for WM's deadman switch was Triple Cross. With both Luminary and Natch down to 4 HP each, I was very tempted to have the former kill the latter just before the win, but I resisted both that impulse and the chance to let Stuntman pull off one more grandstanding display at the last second.