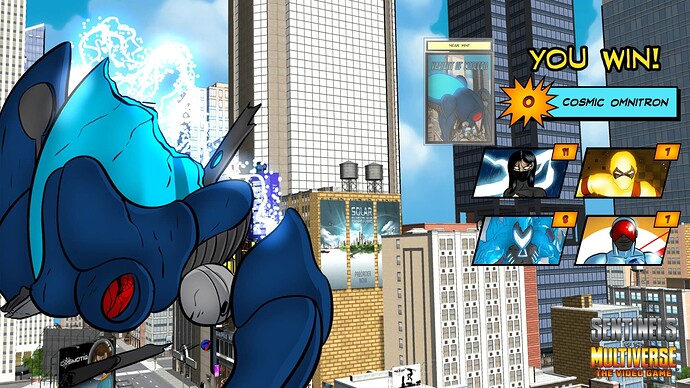 I was just about to make the joke about the Omnitron variant shutting down the GTG warehouse when I saw the Kickstarter update for Definitive Edition.

I hope the lucky few who've already received their copy are enjoying it. I still have to find some real people to play with first anyway.
That aside, Cosmic Omnitron is no laughing matter! Second try for me, with a couple Undos in there too. It got too nasty the first time with both Electro-Pulse Explosives and Hostage Situations coming out pretty early. Very easy to have it slip out from under you. I finally got an Infrared Eyepiece out and buried the second Sedative Flechettes before it could wreck me again. Omnitron was down to nearly single digits at that point, and only lasted one more round!
P.S. It just dawned on me in hindsight why these heroes, but I don't have the write up in front of me now. Wear a mask (Wraith)

, get the shot (Medico)

, isolate if infected (Absolute Zero)


… Don't recall what Benchmark would represent.




Maybe someone else can confirm.