This week, in a blatant power grab, Apostate tries to claim leadership of Mordengrad in the wake of Baron Blade's "death"! Can Ra, the Wraith, and G.I. Bunker foil the usurper's plot?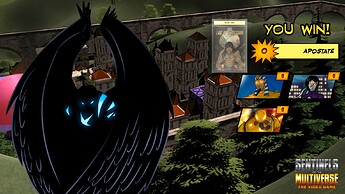 In my case they can, on the second attempt. It's very easy for Apostate to get out of control with many cards salvaging others from the trash. I guess I should've taken the hint that the "Line" from the title is the Device Assembly Line and let it work in my favor. Wraith can use her Infrared Eyepiece to strategically ditch the really bad cards from Apostate's deck.
For instance (spoiler)

On her third turn you should be able to put Apocalypse on top and avoid having the heroes' boards completely wiped. Obviously I didn't discover this on my first game and had no way to clear it before triggering. It all went downhill from there.
Also, Flesh of the Sun God isn't going to be any good with no villain or environment cards dealing fire damage. Imbued Fire will probably do more harm than good when Wraith would be better off with her Micro Targeting Computer.
Apostate got around to cycling his deck once with the environment taking a little off the top each time. He went down right after that, and just in time - looking at single digits across the board for the heroes!