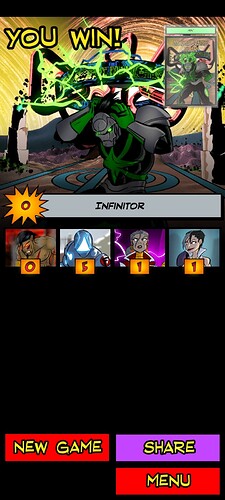 Not an easy Mint this week, but a mint nonetheless. Went with my tried and true strategy of completely ignoring both Manifestations and environment targets (except for one attack on Venox so that a Backlash Generator would kill him and spare the party on round 3), just focusing fire on Ifny to take him out fast. Was left with the girls at 1 and AZ initially at 2, before Hoarfire healed him to 5; his gamble of playing Sub-Zero Atmosphere paid off, just barely, and his double Impale did a fair percentage of the damage.
Ra was targeted by the Reapers, but kept ahead of him thanks to multiple Staffs, assisted by Commodora. When he finally did die, it was from having too many Ocular Swarms which all popped to a Scorched Earth; only on the last such trigger did he die, therefore not finishing his Exterminatus on the entire army. LC finished what he started, though, pulling a Flintlock and Cutlass off Harnessed Anomaly, then playing another one from hand, all with a Figurehead in play.
Honestly, Luminary didn't accomplish too much, in part due to a Crushing Cage; her biggest contribution was entirely nerfing a Whispers of Oblivion with a single firing of Regression Turret. She also profited quite heavily from Slamara, gaining a Commodora-reupped Brilliant Inventor which I believe brought out four Devices, though one of them was only useful for taking a highest-HP hit instead of one of the near-dead heroes. However, Slamara was also the reason for all those Ocular Swarms, so I suspect Ra will be having words with her when he wakes up.
PS: for some reason Bloogo always starts being a total jerk to the heroes (other than CC and maybe Unity) whenever Infinitor is around. I had no qualms whatsoever about taking him out with area damage.