My favorite core set villain in my favorite core set environment, no Advanced or Challenge Mode? Yeah, I wasn't going to wait until Christmas to unwrap a present like that.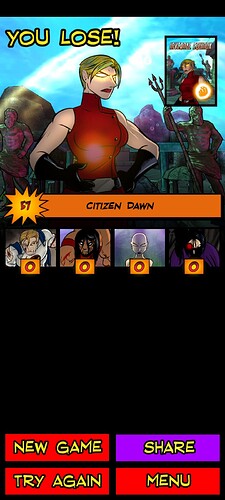 Stupid Wraith completely ruined my attempt at a Mint; twice Visionary set up a perfectly safe Environment turn, but nooo, Nancy Drew here had to get all curious and go Sleuthing, right into a Leaking Room or a Hallway Collapse on Citizen Truth. Between that and wasting her initial Grappling Hook on Luminous Leadership, Maia absolutely destroyed our first attempt; two Channel the Eclipses led to two Returns With the Dawn, Leaking Room kept Mental Divergence from being played and Blinding Blast then discarded it, Pillars of Hercules granted a free Devastating Aurora…it was freaking awful. The only fun part was seeing Truth and Dare trade places like four times, when it's rare to see this happen even once in a normal game.
With foreknowledge of the Environment and Villain sequences, of course, this was a cakewalk. The Eclipses were promptly destroyed, Dawn never even got a fifth Citizen to allow her to flip, and the heroes took so little damage that it was easy to feed Dawn to the Kraken. She used an Aurora on her final turn, which was annoying, but she was at 7 HP and Haka had Rampage, so. Easy Near Mint.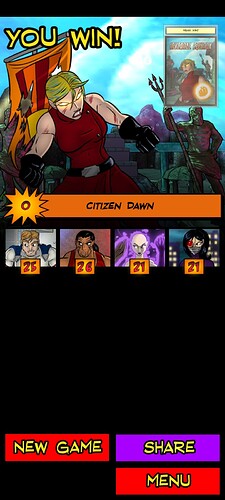 The biggest kick in the bits about this one is that in spite of the flavor text, Citizen Spring didn't even show up in the game where Dawn played half her deck. Handelabra should hire me to write these vignettes for them, so they would actually reflect how the game plays out.