Really cool name and flavor text today. Neither has anything to do with the game, but they're neat.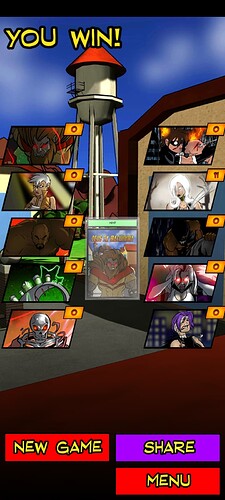 Whew, this was a close one. Blew Oblivion and Arcane Explosion in round 1 to clear the board, and then in like round 3 or 4 I'm like "Wth happened to my health", and soon all the heroes were down… except Nightmist in mist form with 4 HP. Thanks to DW Harpy, I could actually do damage without solidifying, so I made sure to take out Ermine before she could…um…steal my… ability to turn into mist. I hadn't mathed out that the Big Bomb in the environment deck would have killed her anyway, and that I was better off making sure Bugbear also failed to survive. Thankfully he didn't manage to deal +9 damage to a nonhero target, and while I was worried about the Carbon Adept, he died in a car crash, and Biomancer soon afterwards.
Once Plague Rat was the last surviving foe, I could have just kept whittling him down, dealing 2 damage a round while dead Bugbear healed him by 1, and eventually I would crash his car. But I wanted to do something with my 20-card hand, so I dropped out of Mist Form to start healing with Starshield Necklace and Master of Magic, while the Amulet and a Stunt Double helped me avoid any hits. It got a bit hairy, so to speak, but eventually I was confident enough in my HP total that I could risk a Heedless Lash, which more than sufficed for the win.