Caps Lock definitely intended! Completionist Guise*, Action Hero Stuntman, Road Warrior Mainstay, Blood Mage Lifeline, and XTREME!! Prime Wardens Captain Cosmic vs. Spite, Agent of Gloom, in the Pike Industrial Complex!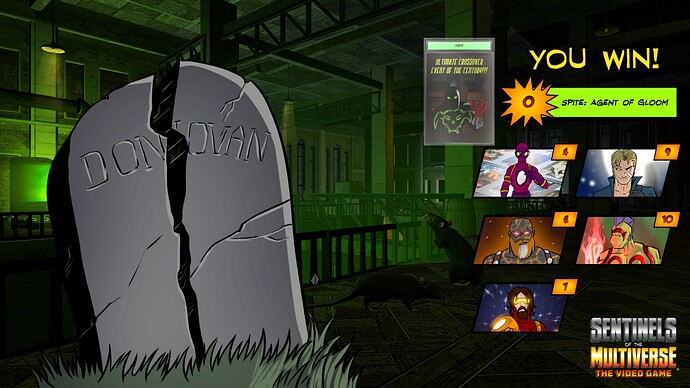 *Your results may vary with crazy (make that crazy-awesome!) Guise power hijinks.
I swapped XPW Cosmic for Requital, then vanilla, before going back to XPW. Likewise, Lifeline went to basic and back. Only on the final turn did the scene-stealing movie star change to his tragically scarred counterpart. Pretty much every swap was calculated for Guise to use their power at the exact moment.
I flipped Spite's first-instance armor drug at the beginning, but luckily this team has various means to ping multiple times per turn. His return cards to hand drug was actually pretty helpful to Guise, who by the end had plenty to do a couple rounds of Super Ultra Kawaii!! Oh, and of course armor on Stuntman, Mainstay, and Lifeline helped with keeping everyone up. A couple well timed healing vats didn't hurt either.