Well, at least the third or fourth most annoying, and second most overused in these challenges, of the Environments has flawlessly beautiful music. Almost makes me enjoy losing to this ridiculously overclocked Challenge Mode for a normally pathetic villain. (I'm a bit sore because, of the ten or twenty Weeklies I still have yet to beat, Challenge MBB is already one of them, so I have to play him again anyway after beating this one.)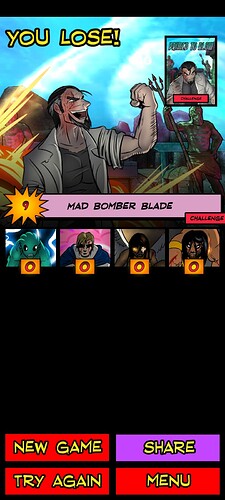 Ultimately I lost because of Krakens more than because of Blade. Though it certainly didn't help that part of my strategy involved having Haka use his Taiaha to smack Fanatic on turn 1, just to try and make her better at Wrathful Retribution… which I then spent on turn 2 for just 6 damage, thinking I could easily Reclaim From The Deep it, because obviously I would have no trouble using the two Prayers of Desperation in my hand to draw replacements for the three cards Wrath discards. Wasn't counting on Consider the Price and Phosphorescent Chamber to force discards. (I regretted having Tempest and Fanatic spend their initial turns just drawing cards, but in retrospect it was a good move.) So yeah, Fanatic died and that whole strategy didn't really work out… although, to be fair, it was certainly Xtreme enough.
My other severe miscalculation was thinking that if I could just keep Legacy alive, he could soak the Death Ray forever with Next Evolution. Two problems with that; one, I keep forgetting that MBB destroys your stuff when he flips, so I needed to hold the Next Evo in hand… and two, of course, Legacy didn't survive. Next time, I had probably best go the Ta Moko/Die Hard route for Haka, rather than trying to race the Baron. Challenge MBB is a rare case where Flesh Repair Nannites isn't a complete waste of his turn, but rather a serious inconvenience which almost justifies not even attacking him until after it happens. Oh, and make sure you don't waste your Ball Lightning, assuming you can manage to keep M'kk Kraken-Kibble alive somehow, for long enough that both of the devastating Ongoings can be taken out.
Overall, though frustrated, I'm pretty happy with this unexpected loss. Not certain I'll be able to Near Mint this one, but I probably have a decent chance.