The Ennead, apparently deciding turnabout is fair play, is raiding tombs in the Final Wasteland, and Chrono Ranger has called upon The Harpy, Void Guard Doctor Medico, Termi-Nation Absolute Zero, and The Hunted Naturalist to help him put a stop to their pilfering! Will they achieve a final victory, or will their efforts be wasted?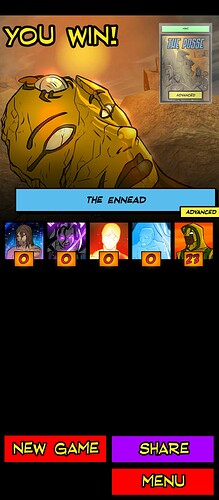 What does it mean when six Ennead members face off against The Hunted Naturalist, having incapacitated all his teammates? Bad news for the Ennead!
Honestly, when an especially brutal round took down most of the heroes, with two-thirds of the Ennead still standing, I was all but resigned to settling for a Near Mint at best - but with his incapped allies providing abundant power uses and card plays, Naturalist soon collected his entire deck into his hand, and hammered the entire pantheon into the ground using Bestial Shift, Primal Charge, The Predator's Eye, dual Cornered Beasts and Resilient Hides, while gaining HP every round and redrawing every card he played almost immediately. What an absolute beast!